Subscription Based Usage
From its inception, Athene was created to support subscription based usage of centrally operated software. This forward thinking functionality allows subscribers to receive unprecedented business advantages including:


The ability to partner with customers and suppliers by sharing the same business information and tools. This yields operational efficiencies that can only be achieved by collaborating across company lines. A true sense of cooperation is created within each business situation. It's all about working together.
Personal use of state-of-the-art business tools without the cost of ownership. In exchange for low periodic subscription fees, businesses can use a powerful business application without the cost of owning it. Collaborating business groups all benefit and can even jointly fund their related business efforts.

no servers
reduced IS staff
no purchase risk
avoid obsolescence
pay only for use of needed features
leverage the service provider's strengths while focusing on core business

Improved methods for communicating and managing business needs.
Business collaborations using subscription based Internet applications produce impressive cross company efficiencies and improve business effectiveness.


---
Invoicing Point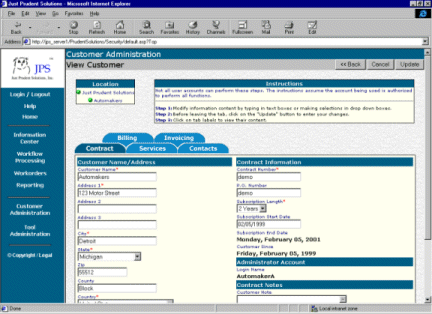 Each subscriber can have their own usage agreement. Usage agreements are defined using Athene's Customer Administration tools. The customer folder contains the contractual terms of usage including length of subscription, fee schedules, and included features. The customer folder also contains an automated billing and invoicing engine with payment ledger. Using Customer Administration tools, subscribers can even set-up their own customers and cost centers.


---
A la carte Feature Selection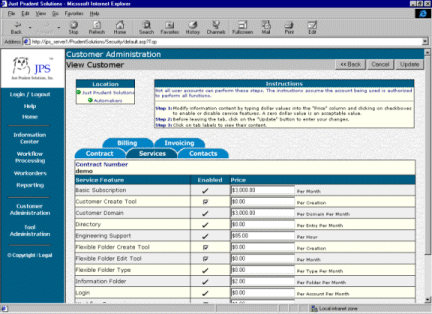 The customer folder "Services" tab sheet is used to make subscription feature selections and set-up pricing schedules. Subscribers are only required to subscribe to the features they need.


---
On-line Billing and Invoicing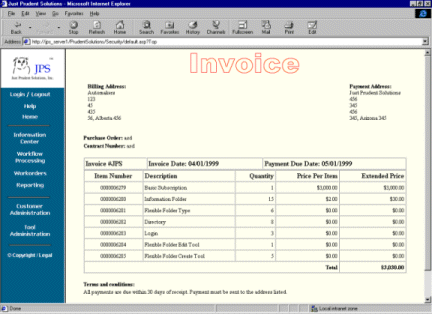 On-line invoices are available for use by subscribers and service providers.


---
The information on this page is confidential.
&copy 1998, 1999 Just Prudent Solutions, Inc.
Problems? Submit a bug report.
8/2/2021 7:16:44 AM